Hrithik Roshan's Bang Bang Dare Challenge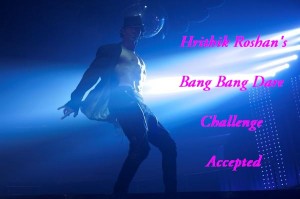 Hrithik Roshan's Bang Bang Dare Challenge started just like other bucket challenge in Bollywood, except the fact that the maker of the challenge invites other bollywood celebs to do so. Hrithik Roshan invited only few selected celebrities of bollywood, doesn't matter hows their relations together but they happily participated and accepted the challenge.
If your favorite from bollywood is not invited then pls do not mind it. It's a marketing gimmick. You will probably notice Hrithik Roshan reverting them in their upcoming releases in some other style. Now when entire bollywood seems standing together, the entire world will see it soon. Bollywood (better say 'the biggest entertaining and glamorous family of India') has now got the new concept of reaching the audience worldwide, and it will boom soon.
The Bang Bang Dare started from 20 September 2014 when Hrithik Roshan said "I'm taking this forward my bangbangdare to Uday Chopra. The challenge was 100 body weight pull ups (in 5 sets)!! U game ? U have 5 days! Time starts now!! – Hrithik Roshan"
1) Watch Priyanka Chopra Bang Bang Dare Challenge
Hrithik Roshan did not left female leads behind to challenge. He invited Priyanka Chopra to do. Priyanka Chopra too accepted the challenge and replied  saying HandStand Pushups to Priyanka Chopra…done.
PC is the one who made Bang Bang Dare a hit. She is so much popular in twitter, and it was a huge hit as and when she shared her Bang Bang Dare video. So she is the number one in this game.
2) Watch Shahrukh Khan Bang Bang Dare Challenge
Hrithik Roshan Bang Bang formula worked and the challenge invitation started moving going on to Shahrukh Khan asking "The 10pack BangBangDare Shahrukh show us a pic doing ur fav ab exercise! all want 2 know which 1 it is! U hv 3 days! Qabool?". SRK accepted the challenge in his style and replied with a video that appealed everyone of his fans and viewer. The video show how he made his 10pack designed body:
3) Watch Farhan Akhtar Bang Bang Dare Challenge
Farhan Akhtar also accepted BangBangDare challenge
4) Watch Ranveer Singh Bang Bang Dare Challenge
This is how Ranveer Singh accepted BangBangDare challenge of Hrithik Roshan
5) Watch Shraddha Kapoor Bang Bang Dare Challenge
6) Watch Nargis Fakhri Bang Bang Dare Challenge
Bang Bang Dare Ranveer Singh to Nargis Fakhri. She accepted the challenge with words "Hrithik Roshan here u go! My freestyle rap just b4 going on stage for GQ"
7) Watch Arjun Kapoor Bang Bang Dare Challenge
8) Watch Uday Chopra Bang Bang Dare Challenge
Uday Chopra was fast enough to accept the challenge and replied "Hrithik challenge accepted!!! Uh oh! only if I had learnt special effects…this would have been so easy to pull off". Just after this he shared an another update with the challenge accepted video saying "Ok Hrithik Bangbangdare done…yes I tried some special effects.
9) Watch Aamir Khan Bang Bang Dare Challenge
Hrithik Roshan also did not leave Aamir Khan to dare as well. He invited him and said "Nahin karoge to punishment milega! Who bhi bangbang style mein! Kya bolte ho logon? ACCEPT?? Aamir Khan?
It seems Aamir Khan was eagerly waiting his turn to do the challenge. He accepted the challenge as soon as he got it. He replied with sayign "Hey Hritik, so, here is your challenge, ACCOMPLISHED!"
Hrithik Roshan later said him "Sabka 1st reaction"abe kya FIT lag rahe hain"kapdo ke sath bhi sixer mardiya!Lekin ho to aap CHEATER!Ab,punishment to banta hai @aamir_khan"
10) Watch Farah khan Ali Bang Bang Dare Challenge
Pictures of the Bang Bang Dare Makers
Watch Shahid Kaporr Bang Bang Dare Challenge
Watch Sonam Kapoor Bang Bang Dare Challenge
After, SRK and his Junglee Billi next we have Khoobsurat girl Sonam Kapoor, whom Hrithik challenged, "My bangbangdare 2 khoobsoorat sonamakapoor A collection of ur happiest craziest smiles on dsuper success of khoobsoorat!! Dis 1we deserve." Sonam like a true sported some of her craziest smiling pics.
Last but the foremost
Watch Hrithik Roshan Bang Bang Dare Challenge
Hrithik Roshan too accepted his bang ban dare challenge said "Abe urs ended later! bangbangdare accomplished. N must say what a pleasurable dare it was. Well done team haider"
Hrithik Roshan's Bang Bang Dare Challenge Ranking
was last modified:
October 4th, 2014
by